Recipes
Cheesy Radicchio Mushroom Bake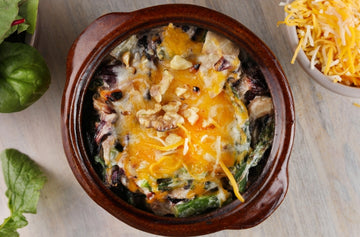 Makes 4 servings
Ingredients:
2 large heads (600g) radicchio, sliced
2 cups (192g) mushrooms, sliced
4 Tbsp (57g) unsalted butter or olive oil, divided
2 cloves garlic (6g), minced
1/2 cup (119g) heavy cream
1/3 cup (33g) grated Parmesan cheese
1 cup (113g) shredded cheese (cheddar, colby or monterey jack)
1/4 tsp red pepper flakes (optional)
Salt and pepper
1/4 cup chopped walnuts (for topping)
Fresh parsley, chopped (for garnish)
Instructions:
Preheat your oven to 375°F (190°C).
Melt two tablespoons of butter over medium heat. Add the sliced radicchio to the skillet and sauté for 5 to 7 minutes until it wilts and becomes tender. Remove the radicchio from the skillet and set aside.
Add the remaining two tablespoons of butter to the skillet and melt over medium heat. Add the minced garlic and sauté for 1 to 2 minutes until fragrant; add the mushrooms and cook for 10 to 12 minutes. Reduce the heat to low and pour in the heavy cream; stir well to combine with the mushrooms.
Add the grated Parmesan and half of the cheese to the skillet and continue stirring until the cheese has melted and the sauce is smooth; season with salt and pepper to taste.
Add the sautéed radicchio back to the skillet and stir to coat it evenly with the sauce.
Transfer the mixture to a baking dish and spread it out evenly. Sprinkle the remaining cheese over the top of the radicchio mixture.
Place the baking dish in the oven and bake for 15 to 20 minutes, until the cheese has melted and the top is golden brown.
Remove it from the oven and let it cool for about 5 minutes. Garnish with walnuts and parsley and serve as a side dish or a light main course.
Nutritional breakdown per serving (recipe makes 4 servings)
562 Calories
17.3g Protein
50.8g Fat
3.5g Fiber
15.2g Total Carbs
11.2g NET Carbs