Your BEST health is our mission!
A fast-paced lifestyle and even faster food make it challenging to eat a healthy diet. Combined with decades of misinformation and rapidly changing opinions, it's becoming nearly impossible to know what to eat (or not eat) for proper health.
As a researcher and popular speaker on the topics of human metabolism and nutrition, Dr. Benjamin Bikman has seen the terrible impact a poor diet has on the health of people worldwide. His advice to the many requests he's received has been consistent: science shows that human health and metabolism thrive when we prioritize protein and healthy dietary fats, and limit our consumption of carbohydrates.
To help people achieve their best health, Dr. Bikman and the co-founding team of nutrition and industry experts created HLTH Code Complete Meal. Carefully formulated to optimize health, this delicious shake is also more convenient and affordable than virtually any meal that you could make or purchase.
At HLTH Code, we believe that every meal should be an opportunity to nourish your body and support your health. That's why we're excited to announce that our Complete Meal shakes are available in Australia, the US, and now in the UK! Backed by science, our shakes are designed to promote metabolic health and provide the right kind and amount of nutrition for every stage of life. Whether you're looking for a quick and healthy breakfast on the go or a nutritious post workout meal, our shakes can help you reach your goals. So what are you waiting for? Try HLTH Code today!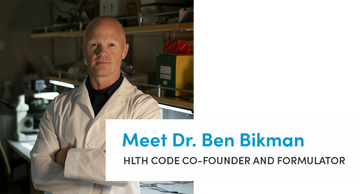 Dr. Ben Bikman is a leading metabolic scientist and the author of the best selling book "Why We Get Sick" His extensive research has shown that it's possible for people to enjoy significant health benefits by feeding the body with the right mix of nutrients, and leaving out artificial ingredients. He is Associate Professor, Physiology and Developmental at Brigham Young University and Biology biomedical scientist whose research agenda focuses on the molecular mediators of obesity and its co-morbidities. Employing cell-autonomous to whole-body systems, his lab's main efforts explore the intimate associations between the metabolic and immune systems. His most recent work has focused on scrutinizing the role of ketones as metabolic signaling molecules.