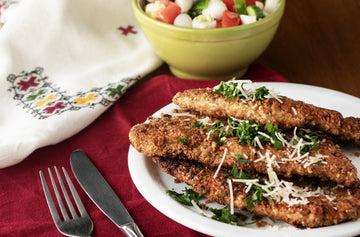 Makes 4 servings
Ingredients:
4 boneless, skinless chicken breasts (135g each)
1 cup (112g) almond flour
1/4 cup (25g) grated Parmesan cheese
1 tsp (3g) garlic powder
1 tsp (2g) Italian seasoning
1 tsp (2g) paprika
1/2 tsp salt
1/4 tsp black pepper
2 large eggs (50g each)
2 Tbsp (30ml) heavy cream or unsweetened almond milk
3 Tbsp (41ml) avocado or coconut oil for frying
Lemon wedges, for serving
Fresh parsley, chopped (optional, for garnish)
Instructions:
Preheat the oven to 200°C (400°F) and line a baking sheet with parchment paper.
Place the chicken breasts between two sheets of plastic wrap or wax paper. Using a meat mallet or rolling pin, pound the chicken breasts until they are about 1/4-inch thick. It will help tenderize the meat and ensure even cooking.
Combine the almond flour, grated Parmesan cheese, garlic powder, Italian seasoning, paprika, salt, and black pepper in a shallow dish.
Whisk the eggs and heavy cream (or almond milk) in a bowl.
Dip each chicken breast into the egg mixture, allowing any excess to drip off, and then coat it in the almond flour mixture. Press the coating firmly onto both sides of the chicken to ensure it sticks well.
Heat a large skillet over medium heat and add enough cooking oil to cover the bottom of the pan. Once the oil is hot, carefully place the chicken breasts in the skillet. Cook for about 3 to 4 minutes per side, or until the coating is golden brown and crispy.
As the chicken schnitzel cooks, transfer the cooked pieces to the prepared baking sheet.
Place the baking sheet in the preheated oven to keep the schnitzel warm while you cook the remaining pieces.
Serve immediately with lemon wedges for squeezing over the top. Garnish with chopped parsley if desired.
Enjoy your delicious keto-friendly Crispy Chicken Schnitzel! It pairs well with a side salad or roasted vegetables.
Nutritional breakdown per serving (recipe makes 4 servings)
578 Calories
52.9g Protein
37.6g Fat
3.3g Fiber
7.7g Total Carbs
4.4g NET Carbs