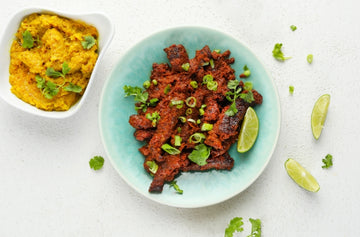 Makes 4 servings
Ingredients:
1.5 pounds (680g) beef, thinly sliced
2 Tbsp (27g) coconut oil
1 large onion (150g), thinly sliced
3 cloves (9g) garlic, minced
1 hot red chilli pepper (45g), thinly sliced (or to taste)
1 Tbsp (15g) grated ginger
1 Tbsp grated galangal (optional)
1 Tbsp (16g) tomato paste
1 Tbsp (18ml) fish sauce
1 Tbsp (15ml) coconut amino or tamari sauce
1 lime (44g), juiced
1 tsp (2g) ground coriander
1 tsp (2g) ground cumin
1 tsp (3g) turmeric powder
Salt and pepper to taste
Chopped fresh cilantro for garnish
Lime slice, to serve
Instructions:
Heat the coconut oil in a large pan over medium heat; add the sliced onions, minced garlic, and red chillies to the pan and sauté until the onions are soft and translucent. Add the grated ginger and galangal to the pan and cook for another minute.
Push the onion mixture to one side of the pan and add the beef slices to the other side. Cook the beef until browned on all sides.
Whisk together the tomato paste, fish sauce, tamari sauce (or coconut aminos), lime juice, ground coriander, ground cumin, turmeric powder, salt, and pepper in a small bowl.
Pour the sauce over the beef and vegetables in the pan. Stir well to coat everything evenly.
Reduce the heat to low, cover the pan, and simmer for 15 to 20 minutes, or until the beef is tender and thoroughly cooked. Taste and adjust the seasonings if needed. Garnish with fresh cilantro.
Serve the beef with mashed rutabaga or mashed cauliflower on the side.
Nutritional breakdown per serving (recipe makes 4 servings)
377 Calories
52.2g Protein
14.6g Fat
1.2g Fibre
9.4g Total Carbs
8.1g NET Carbs
Subscribe to our newsletter for the latest recipes!